10 Luxury Stay in Rajasthan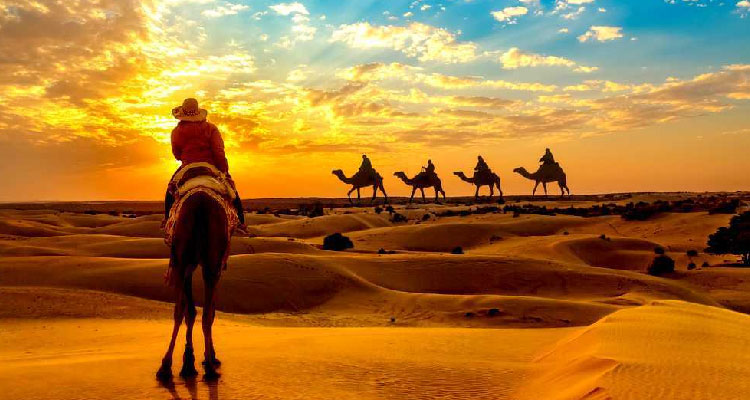 Rajasthan is known for its vibrant culture and princely state. One cannot miss this ideal state without taking a vacation in this magnificent place where one can get hospitality in royal form as well as great places to visit for an ideal trip from Rajasthan Tour Package for relaxation and taking a break from hectic city life.

There are plenty of hotels from standard stays to royal suits for different tourists' comfort. Thus, some of the luxury stays are as follows:

Rambagh Palace, Jaipur – The resort was the residence of Maharajas of Jaipur providing exquisite interior, flawless dining services also with amazing options in cuisines as well as they offer the best hotel rooms with unique heritage design from the historical period to its guest. One surely must book this palace in advance for their Jaipur 3-Day Tour Package for a luxury stay while local sightseeing and getting an amazing experience of royal services.

Taj Lake Palace, Udaipur – The palace is famous for its luxuriousness as well as the palace was used in the famous Bond Octopussy movie. The 5-star resort provides luxury facilities to its guests in a Royal manner. The palace offers 66 rooms of luxurious and 17 grand suites. The palace rooms provide a majestic view from the room balcony for memorable pictures.

The Oberoi Rajvilas – The red-brick architectural representation of this hotel reminds of the Rajasthani Fort which is inspired by Mughal rules. It's an amazing courtyard fountain that offers great choices in cuisines as well as the staff and ground professional manner to serve its guests are quite admirable. It's considered to be the best Hotels in Jaipur for its amazing stay and services.

Samode Palace – This ancient Aravalli Hills consists of amazing breathable rooms with an infinity pool and wine cellar. One can view majestic murals on the walls of corridors and rooms. The palace architecture shows a perfect blend of Rajput and Mughal showcasing the mirror and mural works. This hotel is perfect for couples to book a room or add it to Rajasthan Romantic Tour Package.

Jagat Niwas Palace – In Udaipur, Jagat Niwas Palace is known for its best townhouse Havelis structure as a hotel, where the tourists can enjoy the view of Lake Pichola. Tourists can enjoy the historical feel while dining or roaming around the hotel or royal-like rooms.

Umaid Bhawan Palace – One of the largest palaces with amazing architecture and belonging to the royal families. The tourists can get a majestic view of the alluring garden which is well-maintained staff from the guest's room. This Heritage hotel is managed by the group of Taj.

Amanbagh Resort – This resort is surrounded by the ruins of temples and local villagers. The structure is in the Aravalli Hills form. The resort provides a unique design with glorious services by professional staff members, also the luxurious rooms offer options for meals.

Alila Fort, Bishangarh – Once used by Kings and Rajputs as a warrior fort in the 18th century, is now utilized for luxury hotel stays with a pool, and interiors done lavishly and richly for tourists' comforts and luxurious stay. The hotel has such a good view that one interested in pictures would have photogenic shots for social media platforms.

SUJÁN Rajmahal Palace, Jaipur – Built in 1729 for the glamourous Gayatri Devi, the palace presents vintage and retro style interiors with an impressive grand look showing the luxuriousness. Though, the palace is still owned by royals, the decor of the hotel is fused with jazz sound with such a good ambiance that one would feel treated like a prince or king.

Tree of Life Resort & Spa, Jaipur – Situated in Aravali Hills, tourists get all luxury treatments from a spa to the swimming pool with a walking route having an amazing well-maintained garden for the guests to remove all traveling tiredness from their bodies. Tourists not only enjoy their stay with amazing facilities but they will also get enough space and time to relax and calm around the surrounding. The suggested best time to travel to Rajasthan is around monsoon or winter season for a majestic view.

Tourists can book in advance or add to their tour packages to avoid unnecessary delays or crowds during the season. The guests can examine options from budget to mid-range and luxury and so on. All kinds of services and options are offered to guests according to their interest in staying and vacation. These luxury hotels are great choices too, to add to Jaipur Honeymoon Tour, as there are many couple-related activities for couples to enjoy their stay.

Rajasthan is a great choice for a vacation tour. Though it's recommended to travel during the winter season from November to March or during monsoon for a great experience of local sightseeing and exploring the traditional cuisines of Rajasthan as well as other activities.