Rajasthan Tour Packages From Pune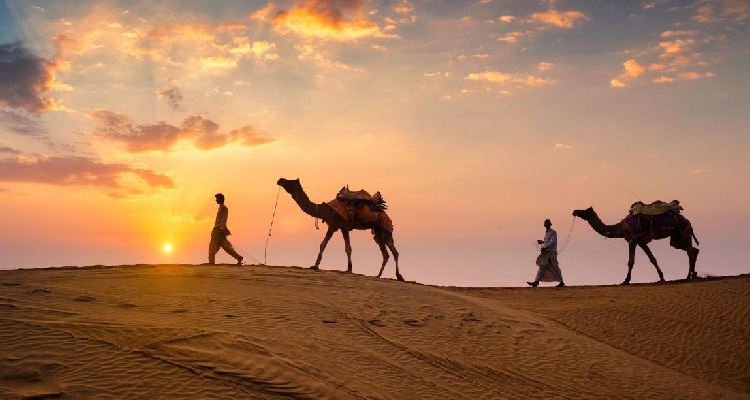 Tour Overview:
Jaipur Taxi Services presents the best Rajasthan tour from Pune which provides ease to travel enthusiasts in Pune. This is an amazing holiday package for natives of Pune to plan their memorable holiday in Rajasthan. Famously known as the state of royals, Rajasthan is a flamboyant state adorned with vibrant folk dance and music, gigantic forts and palaces, spicy food, colorful turbans, extensive sand dunes, and rich handicrafts.
Our Rajasthan tour packages from Pune will let you enjoy your great time with family, friends, beloved ones, or anyone with whom you are travelling. This holiday tour includes several travel services like transportation, accommodation, a tour guide, a well-versed chauffeur, guided city tours, smooth intercity transfers, etc. So, while you are on this tour, you can just relax and enjoy every moment with the utmost pleasure.
Distance – The distance from Pune to Rajasthan's most prominent places is –
Pune to Jaipur – 1191 kilometers approx.
Pune to Jodhpur – 1105 kilometers approx.
Pune to Jaisalmer –1196 kilometers approx.
Pune to Udaipur – 890 kilometers approx.
Major highlights of Rajasthan tour packages –
Welcoming gestures and the warm hospitality of locals will make you feel comfortable.
Local sightseeing tours of the cities will cover forts, palaces, temples, lakes, and more.
Take a glimpse of Rajasthan's past on a guided fort and palaces tour.
Get an insight into the rich heritage wealth of Rajasthan in different cities of cities.
Be a part of traditional festivities to experience the rich cultures of the state.
Gorge the delicious Rajasthani cuisine and enjoy its authentic taste.
Enjoy shopping for Rajasthani handicrafts, handlooms, jewelry, and more.
How to reach the destination?
By air – From Pune Airport, you can board a flight on a suitable date and time to reach Rajasthan's famous destinations of your choice. You can book a flight from Pune to some of the most popular airports in Rajasthan, is Jaipur International Airport in Jaipur, Maharana Pratap Airport in Udaipur, and Jodhpur Airport in Jodhpur.
By train – Pune is well-connected to Jaipur, Jodhpur, Udaipur, Jaisalmer, and other cities of Rajasthan by train. You will find many options in trains from Pune to Rajasthan at various rates. Choose a suitable one for you and get the best memorable experience in travelling from Pune by train.
By road – It is highly recommended to avoid road journeys from Pune to Rajasthan, which is the least opted for by travel enthusiasts because of the vast distances. But travellers can plan their road journey to any destination in Rajasthan, by hiring the best taxi or cab service with us.
How to get around?
To get around in Rajasthan, one can easily find an array of options to travel within the state. There's good connectivity in transportation in Rajasthan for travelling from one place to another. You can either travel by local bus or train or rent a car in Rajasthan. There are several Car rental services in Jaipur providers who offer the best-in-range cars at the best reasonable rates. Of all those, Jaipur Taxi Services is the one that ensures your comfortable and hassle-free travel experience. You can choose from our fleet of taxis, including sedan, suv, luxury, or tempo traveller rentals, and travel comfortably from one place to another. There are several luxury trains that are specially meant for Rajasthan tours like Palace on Wheels, Maharajas express, etc. So, you can enjoy going from one city to another in the most comfortable way.
Best time to visit Rajasthan –
The perfect time for planning a Rajasthan tour is winter when you can enjoy a memorable holiday in the state of royals. This is the best time to discover the rich cultures and traditions of Rajasthanis. The temperature during this season is quite cool as compared to sunny days of summers and the rainy seasons in the monsoon. During winter, you can enjoy the best of Rajasthan in a comfortable and hassle-free way. You can get a chance to indulge in many exciting activities like desert safari, wildlife safari, etc., and feel the pleasure of being in the royal state of India.
Best suggested tour packages from Pune to Rajasthan