Tempo Traveller in Jaisalmer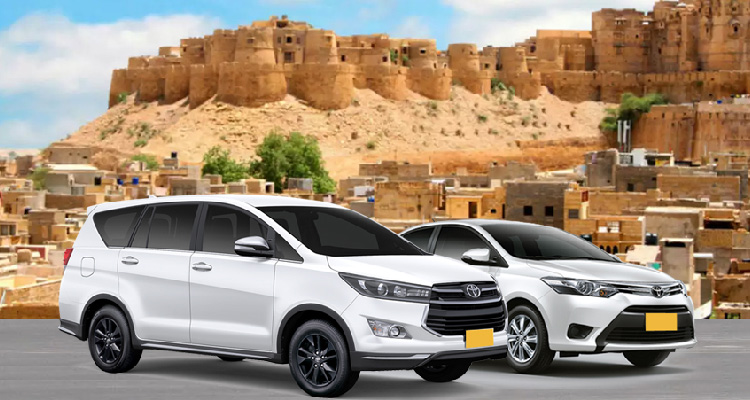 Jaisalmer has the world's second-largest desert – Thar Desert. With the golden yellow color of all monuments, the desert, and the effect created by the Sun here, this city is also known as "The Golden City". Majestic forts, mesmerizing monuments, beautiful temples, delicious Rajasthani food, and the world-famous welcome of tourists make this city one of the top tourist destinations of Rajasthan tour packages. The desert, safaris, folk dance, folk music, campfire, and camping under the clear sky are the best attractions here.
Travel with our Tempo Traveller in Jaisalmer at the best price options. Our company aims to provide the best rental services. We give the best taxi services in the city at the best price. Our well-maintained fleet and experienced staff ensure our customers get a comfortable ride every time. Our service quality makes us one of the best Rajasthan Taxi Services.
Hire Tempo Traveller in Jaisalmer
Travel with the best tempo traveller in Jaisalmer in a group as we are offering the best taxi rental services. We have the best vehicles and staff for quality services at the best competitive prices. All vehicles are serviced and maintained regularly for smooth operations. All our drivers are experienced for any kind of tour you need. Book our tempo travellers for short or long journeys, our tour operators will always make sure that you have a comfortable journey.
Our company has a huge range of vehicles to fulfill all kinds of needs. All vehicles are well-maintained, timely serviced, and properly cleaned to make the journey more comfortable and glitch-free. The drivers are vaccinated and the vehicles are regularly sanitized for the safety of our passengers. All types of tours are properly managed by our experienced staff so that our customers travel comfortably. Our team makes our best efforts to give you quality services all the time and thus we are one of the best taxi rental services in Jaisalmer.
Tempo Traveller for local trips or outstation rides:
Our company has a number of tempo travellers for all sizes of groups and purposes. You can book our tempo travelers for attending a short event, exploring the city, or going outstation. All the trips and bookings are completely flexible so that our customers can plan their trips according to their needs. To ensure a great experience every time, our tour operators properly plan the trips for the customers. So, book tempo travellers with our best taxi rental services in Rajasthan to have a comfortable journey.
Book Tempo-Traveller in Jaisalmer
We have a large number of tempo travellers available for all sizes of groups. So, travel with full comforts in our luxurious and spacious tempo travellers for the best journeys. Tempo travellers are highly comfortable with both urban conditions and longer journeys without any trouble or tiredness.
The following are the specification of our vehicle:
Capacity: short, medium, and large groups.
Fully AC/Heater and luxury tempo traveler
Large boot space for luggage
Pushback seats with seatbelts
Sufficient aisle space and ample legroom
To ensure a tension-free journey our support team is available 24/7 so that you can call and ask for any help you want at any time.
Further to make the trip more convenient we have fully customizable options for our customers for complete rental services. We have made the hiring services highly flexible for any type of requirements by our customers.