Ajmer Pushkar Sightseeing Tour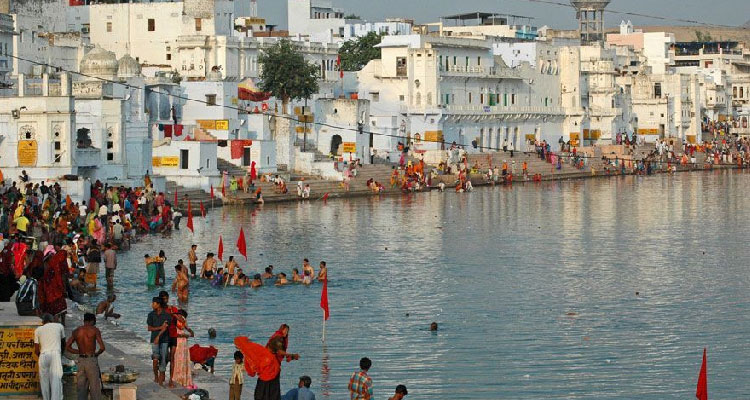 Ajmer Pushkar Sightseeing Tour is one of the most beautiful tours in Rajasthan. The cities are nestled in the laps of the Aravalli Hill ranges and surrounded by beautiful lakes. The cities look like a beautiful harmony of nature, heritage, religions, and modernity. Ajmer has a great history of the royal kings of Rajasthan and their architectural heritage. The city has great religious importance too with world-renowned holy shrines of various religions.
Pushkar is a nearby town that has equal importance in Ajmer tourism. This town is considered to be holy among Hindu devotees where the religion meets the beliefs. The town is also famous for its food varieties, shopping ranges, fairs, and activities to enjoy. Ajmer Pushkar sightseeing tour will take you on a ride of heritage, nature, religion, and many activities which definitely will be memorable ones.
About Ajmer:
Ajmer is one of the oldest and major cities in Rajasthan state. The city is also called the "Heart of Rajasthan" because of its location and tourism. Ajmer Pushkar looks marvelous with lush greenery and lakes around it but what makes these cities even more beautiful is the blend of different religions and their significance among the devotees. The cities have a diverse range of tourism options making them a suitable destinations for all kinds of tourists. Ajmer & Pushkar are famous tourist cities in our Rajasthan tour packages as well as popular pilgrimages.
Places To Visit In Ajmer Pushkar:
The must-visit places on the Ajmer Pushkar tour are:
Ajmer Dargah Sharif
Ana Sagar Lake
Nareli Jain Temple
Soniji Ki Nasiyan
Adhai Din ka Jhopra
Akbar's Palace & Museum
Taragarh Fort
Savitri Mata Temple
Brahma Temple
Pushkar Ghats
Ajmer Pushkar Tour For One Day:
Ajmer Pushkar one day tour is designed to give an amazing experience of all the major colors of tourism in Rajasthan. For a smooth commute, it is best to hire a rental car. On this tour, you will be visiting Ajmer Dargah Sharif, Nareli Jain Temple, Ana Sagar Lake, Taragarh Fort, Prithviraj Smarak, Brahma Temple, and Pushkar Ghats with our tour operator. The tour is inclusive of pick & drop facilities, the vehicle for sightseeing, parking charges, and tour operator allowance.
Ajmer Pushkar Tour For Multi-day
A 3-day tour is recommended for an ultimate tourism experience of these beautiful cities with the following itinerary:
Day 1 – Upon arrival in Ajmer, you will be picked up by our tour operator. You will be checked into your respected hotel where you enjoy the meal and take a rest. Later you can visit the local markets to enjoy the delicious street foods and enjoy shopping around. In the evening, you can pay a visit to Sai Baba temple to witness the temple Aartis. Stay overnight at the hotel.
Day 2 – The tour will cover major attractions in Ajmer such as Taragarh Fort, Ajmer Dargah Shariff, Soniji Ki Nasiyan, Nareli Jain Temple, Adhai Din Ka Jhopra, Ana Sagar Lake, and Clock Tower. You will get to enjoy traditional Rajasthani cuisines.
Day 3 – The tour will cover Prithviraj Smarak and Pushkar town. In Pushkar, you will visit the only Brahma Temple in the world, take a holy bath in the sacred Pushkar Lake, and witness the sacred Aartis at Pushkar Ghats. You can also enjoy various kinds of safaris, adventures & activities. The city has a peak of tourism during the Pushkar Fair which is world-famous. At the end of the tour, you will be dropped back at your location in Ajmer.
Conclusion:
Ajmer Pushkar has the winter season as the best time for tourism. The charming beauty of these cities will captivate your hearts. If you want to have the best tourism experience then book our Ajmer Tour Packages which are customizable and affordable. Further, to commute around comfortably with experienced tour operators book our car rental in Ajmer.